When we met Sameer: 10/25/2005
We were introduced to Sameer and Surekha by a mutual friend when they moved into our building (in NYC). We had an enjoyable first evening together in late 2005. But it wasn't until we ran into each other in a neighborhood café a few months later, when we realized we were both expecting our first children within a few days of one another, that we really started getting to know each other and became friends.
What you remember and appreciated most about Sameer
We remember and appreciate our shared family times with Sameer, Surekha, and the kids. Sameer was always fun to be with, a great storyteller, political and economic debater, and clearly dedicated to and enamored with his family life.
We remember distinctly November 2006, when Sanjana and Laila were born, just a few days apart. As it turned out, Laila showed up first, so Sameer and Surekha came to visit soon after we came home from the hospital. Sameer had such an excited look of anticipation that their little girl would soon be making her own entrance to the world, asking a million questions. He simply couldn't wait to meet her. The photo of the new fathers and babies was taken a week or so later — two proud Dads holding their first born little girls with a mix of wonder, disbelief and glee. The look on Sameer's face tells it all.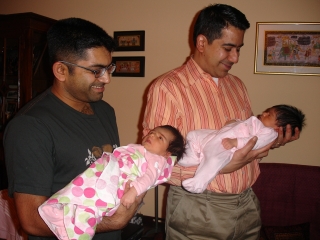 Click to see larger version
Over the years, we enjoyed family get-togethers, and shared bonding over early baby and toddler rearing. In the baby days, Sameer told us about reading to Sanjana in her crib – not the typical baby books but rather Moby Dick, or epic history works. While he was certainly deliberate about exposing his kids to more sophisticated art and literature at an early age, he never took himself too seriously, always laughing as he shared the story.
Extended thoughts about Sameer. Please write as much as you like.
At every birthday party and outing Sameer always looked at his kids with the same beaming smile and happiness. It was a wonderful thing to see and be a part of. We will miss Sameer's presence very much, and send our warmest condolences to his family. We are thankful that his warmth, smarts, and wit will continue to shine through Sanjana and Arjun for many years to come.